Are you struggling to find age-appropriate activities that build skills and challenge your child? Every child develops in a sequence of skills that are the building blocks for their future learning. Children need multiple opportunities to develop these skills in a variety of ways and learning styles.
I believe that all children can reach their fullest possible potential through hands-on play and developmentally appropriate activities.
My mission is to provide developmental tips, tools, and strategies to help you grow hands-on kids.
Whether you are a parent, caregiver, educator, therapist or other professional, this site is for you.
Welcome!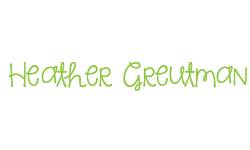 Downloadable Products
All products are digital downloads and you will receive an e-mail with your download links after your purchase. There are also Kindle and Paperback options on Amazon for some products and this will be noted under each product description.

About
Heather Greutman is a Certified Occupational Therapy Assistant with experience in school-based services for preschool through highschool age children. She also homeschools her two children ages 3 and 6.

Contact
For all customer service related questions please e-mail customerservice@growinghandsonkids.com. Please allow 48-72 hours for a reply.