Connect with your children, beat the summer boredom & explore sensory processing through hands-on activities!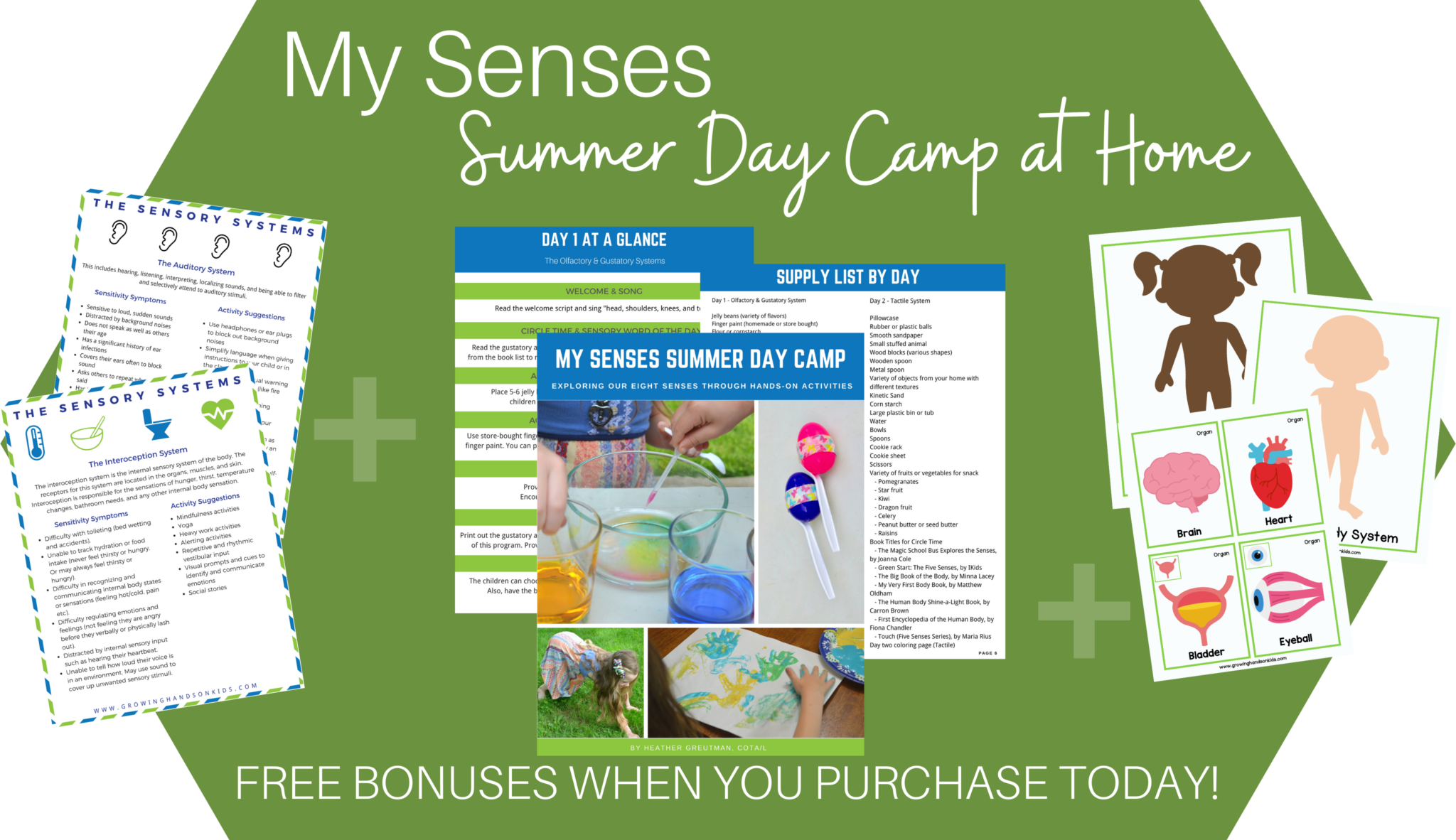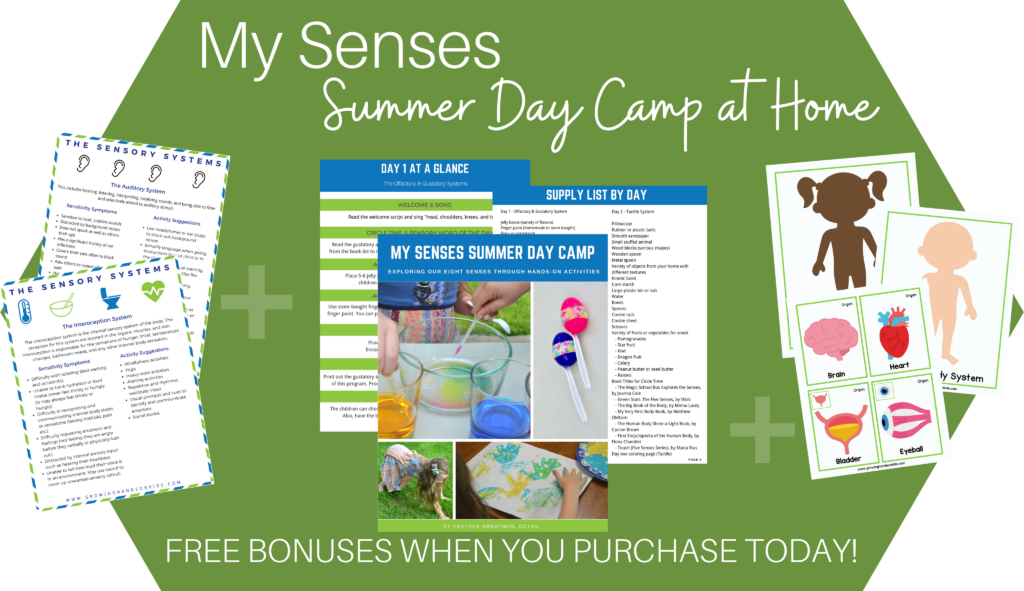 With the My Senses Summer Day Camp program, you will never have to guess at what to say in explaining sensory processing to your child. I've literally written out a script for all 8 sensory systems that you can read word for word.
After listening to what each of the sensory systems is from the "sensory word of the day" script, your kids will engage with each sense as they complete some fun hands-on activity.
Finish with snack suggestions that have been specifically designed to complement each sensory system and a fun coloring page that will help children remember each sensory word of the day.
This program is designed for children ages 3 to 9 and can be completed in 5 days consecutively or pick and choose when you want to complete each day.

Click here to BUY NOW @ 40% OFF!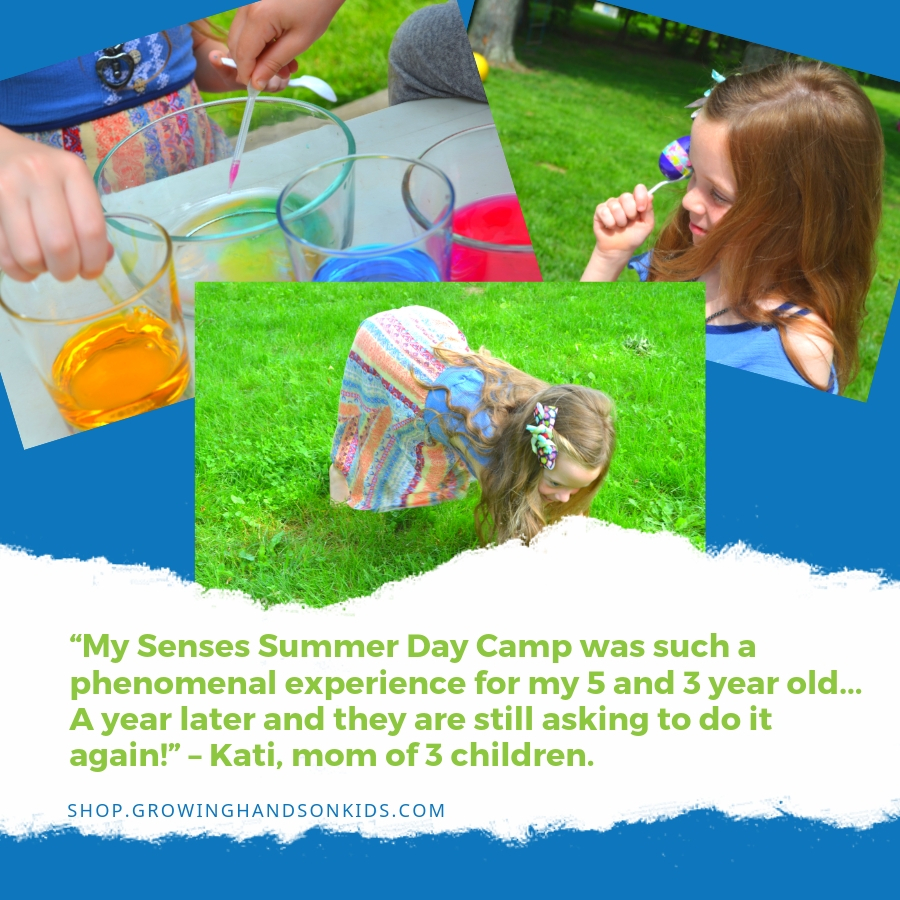 What You'll Get with the My Senses Summer Day Camp Program
✔️ The week at a glance so you know what the routine is like and how each day will flow.
✔️ Day at a glance page so you can plan ahead.
✔️ Detailed supply list for each day (most of the items you probably already have in your home!).
✔️ Sensory Word of the Day scripts so you don't have to think about how to explain each sensory system.
✔️ Suggested book lists for each day to explore more of each sensory system and the human body as a whole.
✔️ Snack suggestions that are designed to complement each sensory word of the day.
✔️ Coloring pages for fine motor practice along with a fun way for kids to remember each sensory word of the day.
✔️ A summer boredom-buster program that will be a hit with all of your kids!
My Senses Summer Day Camp was such a phenomenal experience for my 5 and 3-year-old! They enjoyed the multiple approaches used to teach each of the senses including the crafts, exploring smells and tastes, and trying new games!
A year later and they are still asking to do it again!
Oh my goodness!! What a fun and comprehensive resource! Whether you are schooling year round or just looking to supplement your child's summer learning in a fun way; "My Senses Summer Day Camp is perfect!
The supply list is a godsend and so helpful to ensure I don't procrastinate the summer away! Heather has laid all the activities out in such a way that I really didn't have to spend hours planning & I was able to spend the time with my girls rather than search the internet trying to organize all my thoughts.
My youngest didn't even realize she was learning, yet she recalled many of the activities to share with my husband at dinner time. I love the hands-on learning experience as it really is a fabulous fit for every learning style.
I am not a Pinterest mom and even with all of the carefully laid plans in place, if there's just too much to do? I will give up.
I love having things planned and laid out for me. And this? This is absolutely one of those things.
I cannot tell you enough.. you have more than likely saved my summer!

What do you get when you purchase?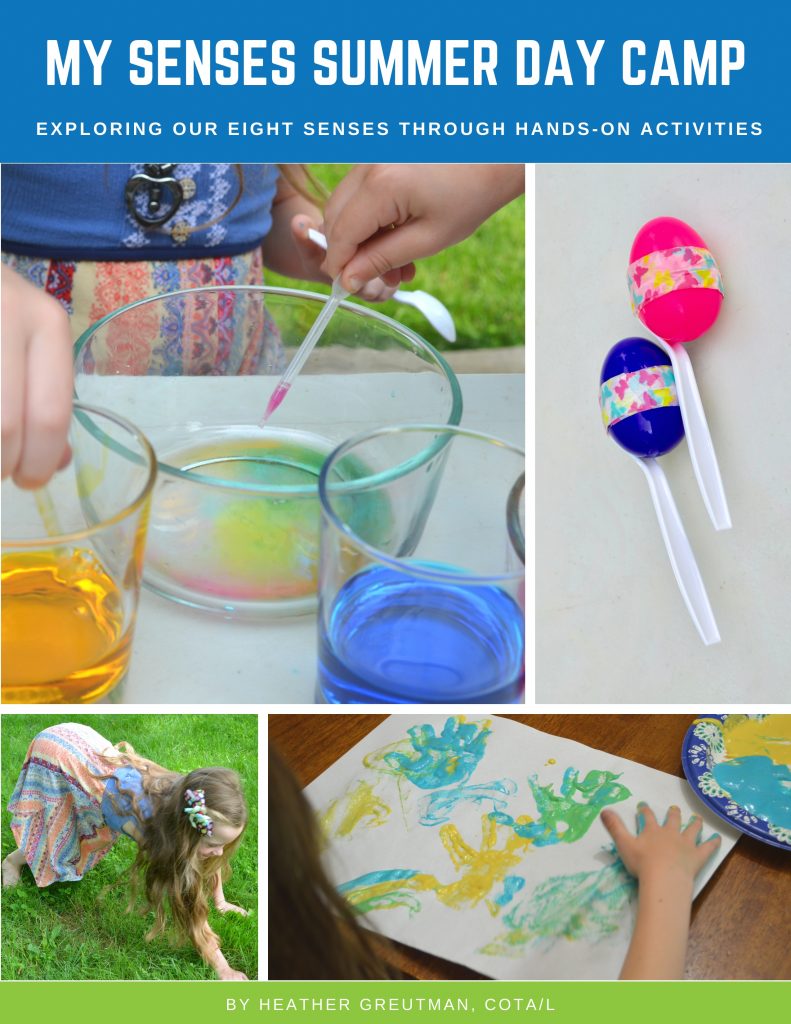 My Senses Summer Day Camp Program (Digital Download/PDF)
Beat the summer boredom blues and explore the world of our eight senses through hands-on activities in a fun summer day camp format. This program gives you step-by-step directions, sensory word of the day scripts, supply lists, coloring pages, and more for children ages 3 to 9 years old.
$20.00 value (digital ebook/PDF version)
Human Body Play Dough Mats – Digital Download/PDF
Explore the human body with these play dough mats. Children will love creating all the organs that go inside their bodies with these colorful play dough mats.
Color and black and white options are included.
Body systems included with this printable are:
Digestive system
Lymphatic system
Muscular system
Nervous system
Circulatory system
Respiratory system
Skeletal system
Urinary system
Reproductive system (optional)
$5.00 value (digital download/PDF version)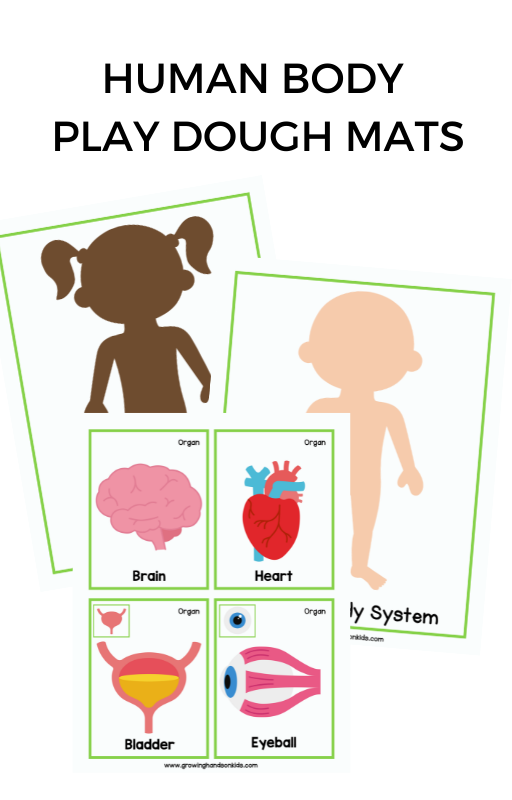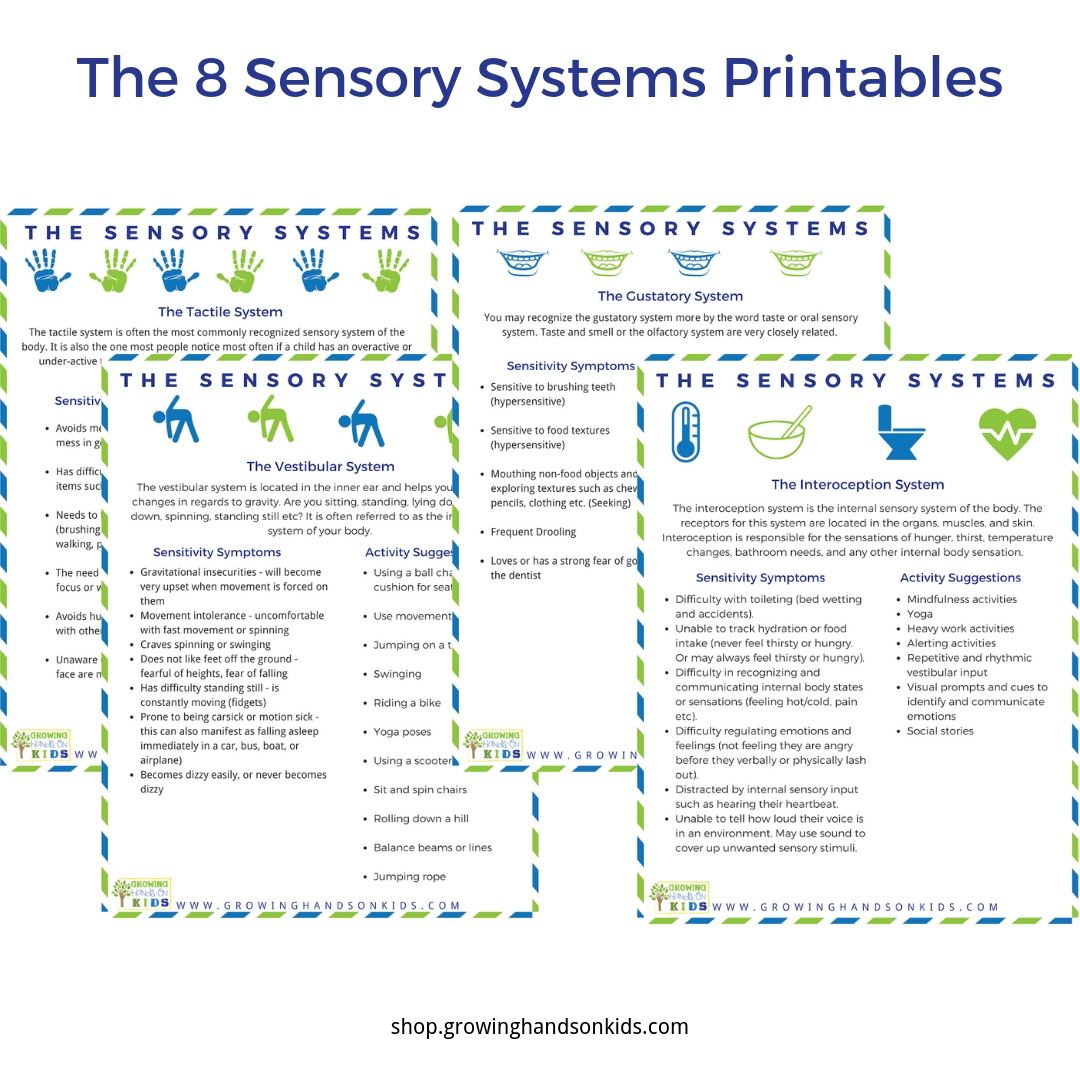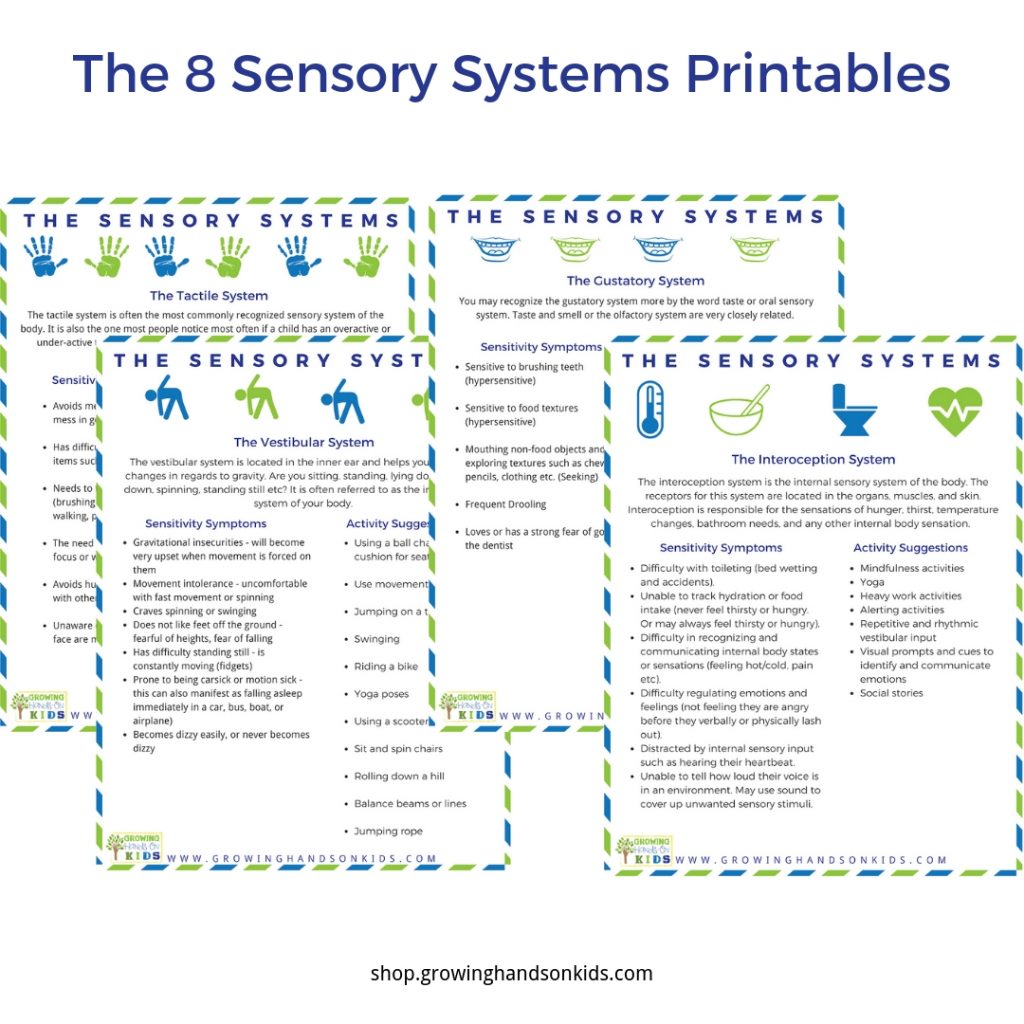 The 8 Senses Printable Handouts – Digital Download/PDF
Explore all 8 sensory processing systems with what sensory challenges look like for each system, plus easy activities and suggestions to address each sensory challenge.
These make great posters or handouts to share with family and teachers.
8 digital download handouts (digital/PDF version).

CLICK HERE TO BUY NOW @ 40% OFF!
My Senses Summer Day Camp FAQ
Who is this Sensory Summer Day Camp Designed for?
For anyone who needs some summer boredom buster ideas and wants to encourage their child to learn about their bodies and how sensory processing works. You can use this summer day camp program with just your own kids at home or invite some friends to join you. Or set it up at a summer daycare program, use it in your therapy practice for some additional summer fun, use it at a library program, etc. Really the possibilities are endless!
What Ages is this Sensory Summer Day Camp Best for?
I have designed the program specifically for ages 3 to 9. When we tested these activities last summer we had a group of 5 children ages 18 months to almost 6 years old with us. There are small pieces with some of the activities, so that is why I put the age of 3 years plus on this program. If you have younger children you can adapt the activities to be safe for all.
How Long Does the Summer Camp Last?
I designed this program to be completed in one week or 5 days. There are two activities per day along with the sensory word of the day time, snack time, coloring time, and also videos or books you can add-in.
If you want to spread the summer camp out and only do one activity per day you could do that and make the camp last longer. Or you could break the days up and do one day's worth of activities per week making it 5 weeks long. It is very flexible and really up to you in how you want the summer camp to run.
What Do I Get When I Purchase?
You'll get the complete My Senses Summer Day Camp program with all the sensory word of the day scripts, a day at a glance schedule, activity directions for each activity, supply lists, suggested book lists, video link suggestions, snack ideas, printables to go along with each day, including the coloring pages and more! 
You'll also receive digital downloads of the Human Body Play Dough Mats and the 8 sensory systems printable handouts in a separate email. 
This is a digital download product, so you will need to download and print it out yourself after you purchase.
You will also get some follow-up emails from me with more suggestions, resources, and tips for making the most of your sensory summer camp purchase.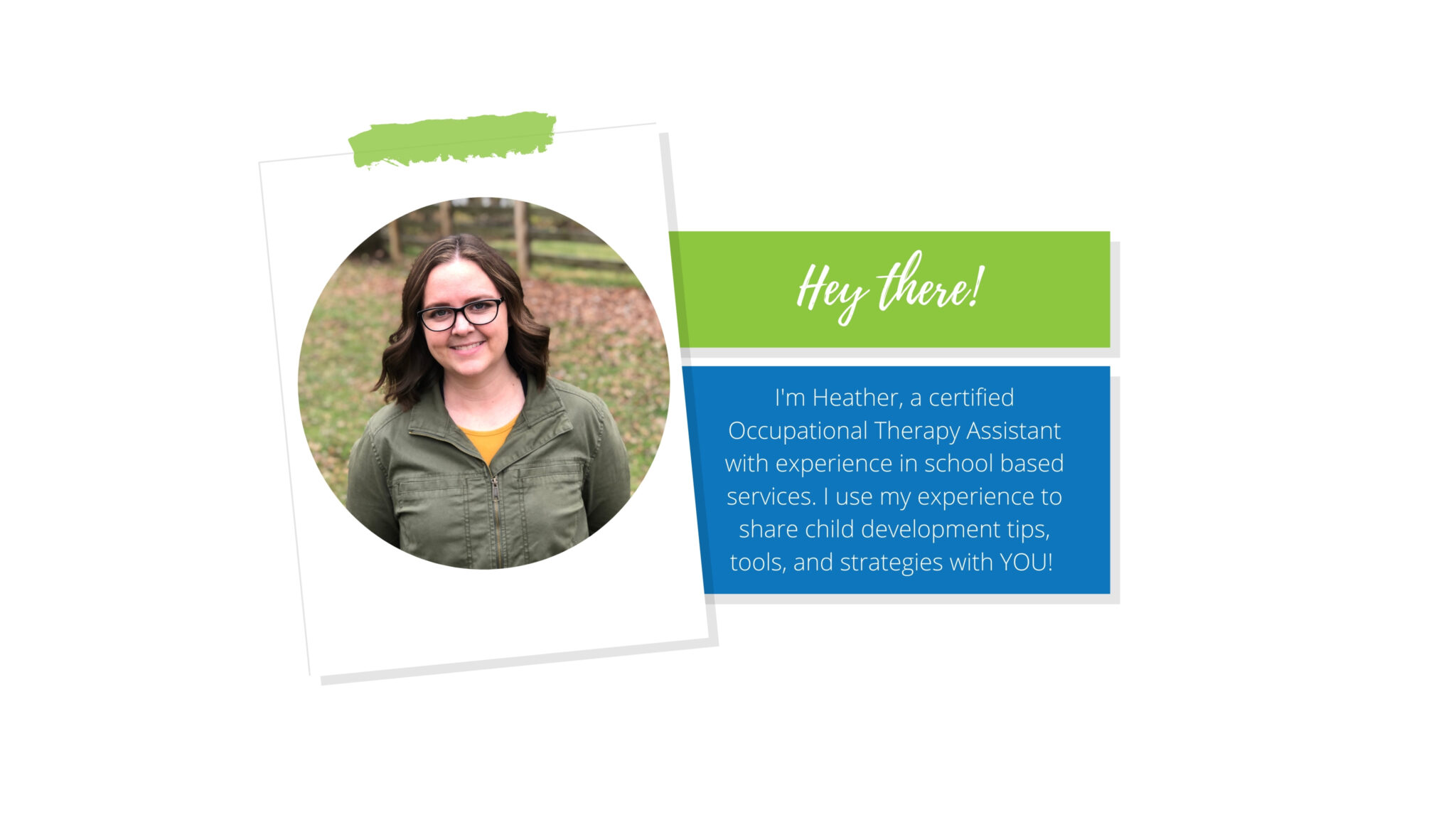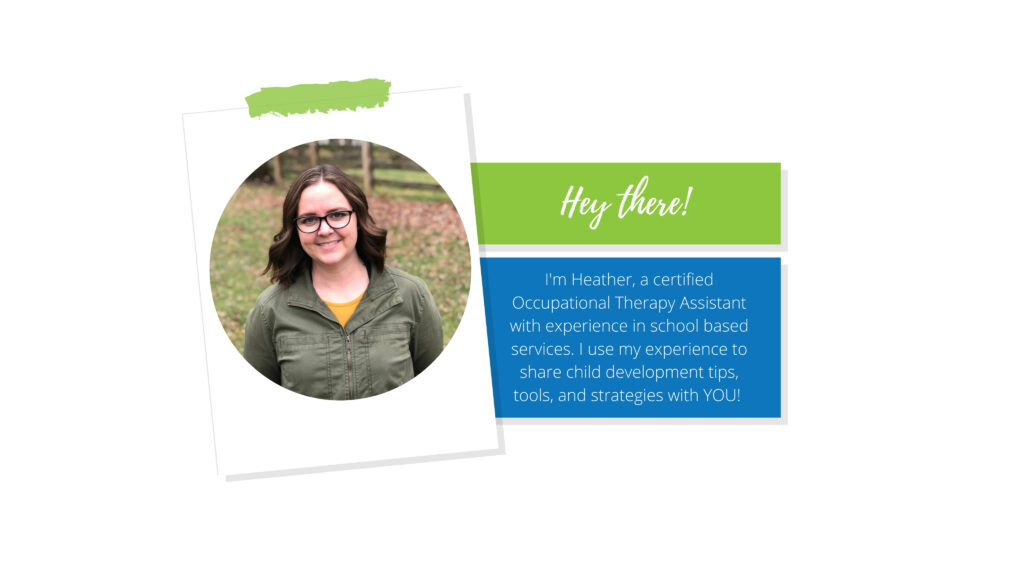 CLICK HERE TO BUY NOW @ 40% OFF!