Feel empowered to navigate sensory challenges!
See lasting results. Improve your child or student's emotional regulation and behaviors. Have smoother transitions between home, school, and activities. Make morning battles a thing of the past.
Parents need quick solutions that work to deal with meltdowns at home and figuring out what their child's behavior is trying to tell them.
Teachers need strategies that they can use in a busy classroom with multi-level students that are budget-friendly and work in small spaces.
Therapists need trusted information that they can share with their families and educators about how sensory challenges can be met. And they need handouts, checklists, and cheat sheets they can easily pull out and share without having to recreate the wheel.
The Sensory Essentials Collection has everything in it to equip you with the skills and knowledge you need to help your child and students today.
What Makes the Sensory Essentials Bundle Unique…
We didn't just include sensory processing resources for adults, we specifically created products that your children and students can use to discover how their own sensory processing systems work. 
From fun memory games to help them learn about each sensory system, to a workbook that helps them discover their own sensory differences and how to advocate for themselves.
BUY NOW - Digital Download - $49.99
BUY NOW - EU READERS - Digital Download - $49.99
The Sensory Essential Collection Products!
We've included products that we know will help you master understanding sensory processing. Plus discover tips, tools, and strategies for encouraging your child, students, or clients to self-regulate and self-advocate for their own sensory needs!
Get $76.99 worth of digital products at 35% off for $49.99. 
Keep reading for more details on each product included in this collection.
Sensory Processing Explained – A Handbook for Parents and Educators – Valued at $17.99
Get easy to understand sensory information that you can share with parents and educators to help explain a child's behavior
You'll know how to explain sensory processing to those who just don't get it.
Parents will discover calming techniques and strategies can work during a sensory meltdown, plus easy sensory ideas to replicate at home. 
Teachers will get strategies and activities that can be used with an entire classroom. 
Even if you're just figuring out where to begin if you feel a child could be struggling with sensory processing, this book is easy to understand and a great starting point on your journey with sensory processing.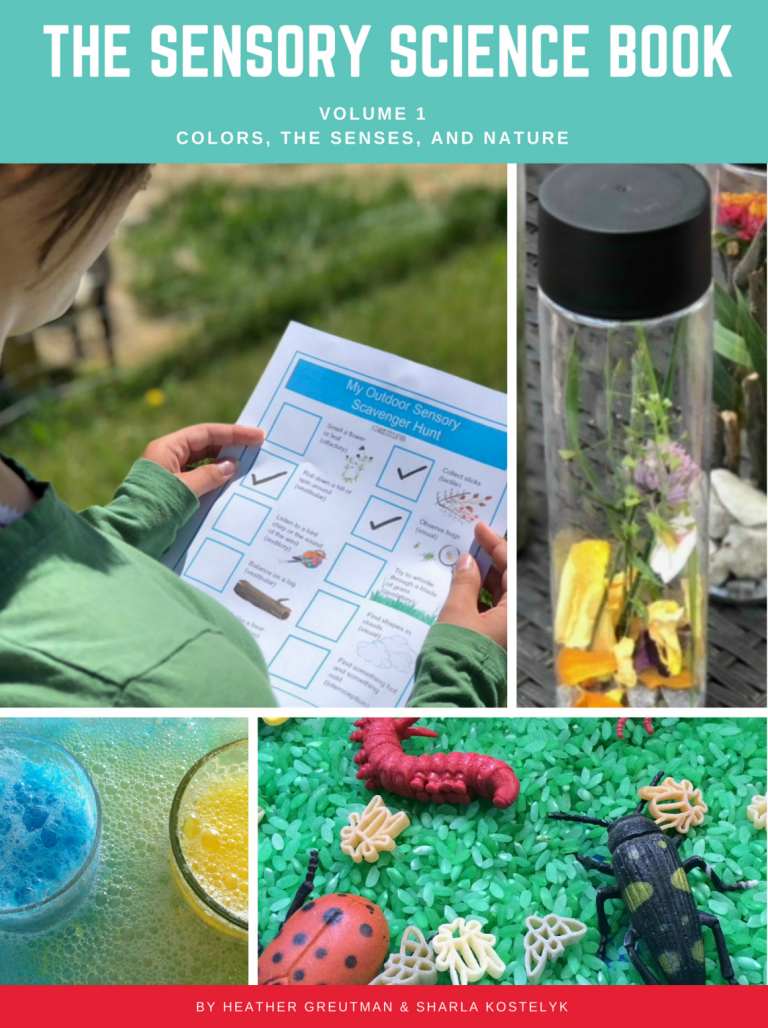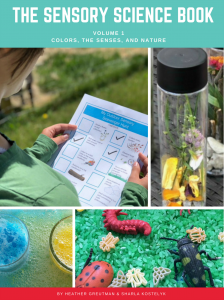 Sensory Science Book – Volume 1 – Colors, The Senses, Nature – valued at $12.00
When we engage with the world around us using our senses, we not only gain a richer experience, we retain the information and build important pathways in the brain for higher level learning.
Our goal with this book is to offer you a guide to providing these sensory rich experiments with your children and students.
Whether you are a parent at home looking for after school or summer activities, a homeschool parent looking to add in hands-on learning, or a teacher wanting to provide hands-on experiments in the classroom, this book is for you!
Sensory Bins ebook – Valued at $5.00
Sensory bins are a simple and inexpensive learning tool that can benefit all children.
Whether you are interested in incorporating sensory bins into your home, classroom, preschool, Day Care, or homeschool, this guide will provide you the necessary knowledge and ideas to get started.
The Sensory Bins ebook includes ideas, lists, storage, and money saving tips, information on using sensory bins with Sensory Processing Disorder, and helpful recipes.
Emotion Cards – Valued at $10.00
Does your child or student struggle with emotional regulation?
Use these 12 visual emotion cards for children to help you and them understand their emotions.
Each card includes caregiver and educator tips on the back to help your child understand and regulate their emotions.

My Sensory Self Workbook – Valued at $5.00
Help your child or student discover what the eight sensory systems feel like and what their sensory preferences and dislikes are with this fun and engaging workbook.
This workbook includes eight coloring pages, one of each sensory system, a short description of each sensory system that a child can understand, plus two pages to think through their own sensory preferences and dislikes. 

Sensory System Matching Game – Valued at $5.00
This fun matching game helps children identify and learn about the 8 sensory systems.
It comes with printable playing and matching cards along with directions for how to play the game.

Visual Schedule for Special Needs – Valued at $12.00
This visual schedule is designed with the family or child with special needs in mind. Ease transitions, reduce meltdowns and provide visual prompts for daily-life skills.
Each card comes with an easy to understand graphics and can be used in the home, classroom, or on the go.
These cards include prompts for doctor appointments, therapies, medications, and step-by-step visuals for common everyday life skills such as dressing, washing hands, or brushing teeth.
You will get both black and white and color options of all 66 cards.

Sensory Break Cards for Home – Valued at $5.00
These sensory break cards are designed for use at home and with minimal sensory tools or easy, DIY options from around the house.
Each of the activities is divided into green cards for calming, red cards for alerting, and yellow cards that can be both alerting or calming activities.
These cards are designed to be used with children who can read or with adult prompting.
Sensory Break Cards for the Classroom – Valued at $5.00
These sensory break cards were designed to be used with minimal sensory tools or easy, DIY options, use in small spaces, and with multiple children.
The activities are divided into green cards for calming, red cards for alerting, and yellow cards with activities that can be both alerting or calming.
These cards are designed for children who can read, or with adult prompting.
This is a DIGITAL DOWNLOAD product, you will NOT receive any physical products in the mail. 
BUY NOW - Digital Download - $49.99
BUY NOW - EU READERS - Digital Download - $49.99